Free Food Vending Machines
Free Food Vending Machines – pre made meals, sandwiches, wraps, salads – all ready to eat on demand!
Food vending machines bring a lot of benefits to a workplace.
These vending machines make it possible for employees to get snacks and drinks whenever they are hungry or thirsty.
Plus, saving them time from going out to the nearby take away shops, restaurants or suffering through the day or night.
The fresh food vending machine free supply and maintained free, organised by vending machine and our sister biz, Vending Machines Australia offers a great way to make fresh food meals, such as sandwiches, wraps, salads, yogurt, and much more available for employees at the workplace anytime.
The custom food vending machine requires low-maintenance and no overhead cost.
In fact, having our salad vending machine can encourage your employees to stick around and keep their breaks short.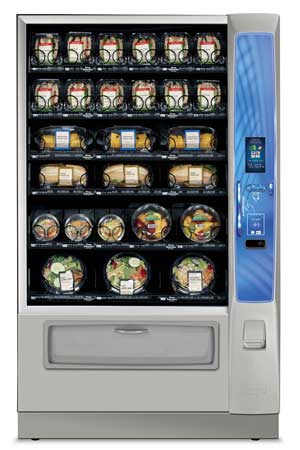 Your vending machine will be supplied to you for FREE!
You also get free vending services!
NO COST TO YOU!
ZERO Installation Fees
ZERO Rental
ZERO Servicing Costs
NO CONTRACTS!
What can a Fresh Food Vending Machine Do for your workplace?
The wrap vending machine was designed to solve one of the most crucial needs of employees at the workplace – food and drinks.
At Vending Machines Australia, we believe that employees shouldn't be hungry or thirsty while at work.
Also, we know that some employees forget their lunch or for night shifts, a meal or are too far or isolated to get food at the nearby shops.
A food vending machine stocked with fresh meals such as sandwiches, wraps, salads, are always available to employees 24/7.
Employees can get the following food items from the vending machine:
Sandwiches & Wraps made ready to go when you are with:
– Ham, Cheese, & Pickle
– Ham & Cheese Toastie
– Bacon & Egg Toastie
– Chicken & Bacon Toastie
– Sweet Chilli Chicken
– Egg & Lettuce
Pasta Meals – Bolognese, fettuccine,
Fresh Side Salad
Pies
Beef Stroganoff
Chicken curry
Roast Beef dishes
Furthermore, fresh food vending machines are highly affordable, energy-efficient, and reliable.
They feature LED lighting and controlled chilling and temperature control technology with remote monitoring systems to meet the requirements of providing fresh meals and snacks at the workplace.
As mentioned, the vending machine makes use of the innovative remote monitoring technology for tracking the vending machine's temperature accurately and monitoring product expiry.
A food vending machine selling salads, wraps, pies, sausage rolls, microwavable meals can save employees precious minutes and get them refuelled and back to work faster.
How To Get The Fresh Food Vending Machine At Your Business Or Workplace
What's more, food vending machines are designed to be energy efficient and to meet the guidelines of fresh food safety guidelines.
The vending machine will deliver the meals fresh and not frozen.
If your workplace requires this service we can organise the supply installation and restocking for free.
We organise one of our vending operators to make an appointment to visit your workplace for an independent, pre-site assessment.
This will help determine if your factory or office building is suitable for the food vending machine.
A product list can be sorted on the meals and food your staff will enjoy in your supplied food vendor.
Once this has been done, an install date will be made, a professional team will carry out the installation and stocking up.
With this, you and your employees can start enjoying fresh food like wraps, sandwiches, baked treats, and salad, during breaks at work.
No need to leave the workplace, saving time for staff to sit back, have a tasty healthy meal choice.
Need a Food Vending Machine? Contact Us Today!
Contact us today here at Vending Machine or at Vending Machines Australia to organise for you…your fresh food vending machine.
We also can arrange a salad vending machine, wrap vending machine, and other custom food vending machine solutions.
Frozen Food Vending machines – Many of our favourite meals are now made using the freshest ingredients and frozen to lock in the goodness.
So many Australian companies now make really nutritious and flavoursome frozen meals. So many varieties to choose from.
Frozen meals have come a long way since " Frozen TV Dinners "
You will be surprised if you haven't tried a frozen meal lately.
The aroma and taste for such a little price.
Above all, our salad vending machines are affordable, energy-efficient, and highly reliable. Our experts will be available to speak with you and determine the ideal option for your needs.
We have been serving businesses and brands throughout Australia, for over 15 years including Sydney, Melbourne, Canberra, Adelaide, Perth ,Brisbane, Darwin and in Australia.
Let us serve you… the food vending experience awaits you!