Free Coffee Vending Machines
Australian businesses, we have a very tasty and fantastic offer for you – FREE Coffee Vending Machines.
We have added high quality coffee vending machines to our Free vending machine offers.
If having a free coffee dispenser sounds good to you, you will also be glad to hear the coffee delivered is not instant or freeze dried coffee.
Instead, we made sure that the coffee comes directly from the coffee beans so the flavour is the best possible.
Fresh bean to cup.
Each cup of coffee is freshly ground and then made on demand as needed.
Freshness is essential to a great coffee.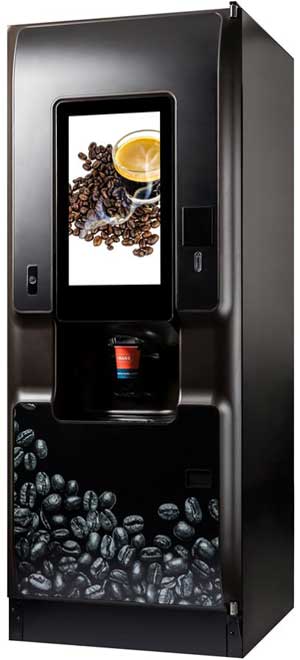 Your vending machine will be supplied to you for FREE!
You also get free vending services!
NO COST TO YOU!
ZERO Installation Fees
ZERO Rental
ZERO Servicing Costs
NO CONTRACTS!
Please take a look below to read more about our offerings:
We can supply your business with a free office coffee vending system Easy as 1,2,3. We will deliver, install and refill the machine for your conventioneer.
Best performing coffee dispenser anyone in Australia – Not instant coffee!
Choose from 18+ selections Multiple payment methods (notes, coins, card, tag and go/pay wave) We are a trusted Australian company operating for 20+ years.
20 Product Choices
Espresso
Caffe latte
Macchiato
Decaf
Chocolate Milk
Cappuccino
Cappuccino with chocolate
Mocaccino
Black Tea
Milk
Black Tea
Black Tea and Milk
Hot water
Cup Only
System Capacity
Cups: 500
Stirrers: 450
Coffee Beans Canister Capacity: 3.2KG
Canister Capacity: 2.5L – 4.5L – 6L
Boiler: 0.5L
Specifications
128 X 64 Graphic Display
Buttons (LED lit)
Height: 1700MM
Width: 600MM
Depth: 740MM
Depth With Door Open: 1250MM
Weight: 125 KG
KEY FEATURES:
Free machine installation and ongoing maintenance.
We supply consumables and refill machines.
No need for staff rosters to clean and maintain the machine.
Less hygiene issues compared to fresh milk machines.
More cost effective option than fresh milk machines.
More hot beverage options than traditional coffee machines.
A detailed beverage report is issued on a monthly basis.
Quality 100% Arabica beans or equivalent freshly-grounded in all machines.
Ideal for waiting areas, sports clubs, hospitals, schools & universities, medical centres, airports, hotels & motels, showrooms.
All these product selections are available on our Necta vending coffee machines – Cappuccino, Cafe Latte, Mochaccino, Espresso, Double Espresso, Macchiato, Long Black, Chicken Soup, Tea, Tomato Soup, Chai Latte, French Vanilla, Hot Chocolate, Choco Milk, Milk and much more.
If you're seeking profit sharing options this is the right solution.
The Customer pays for beverage – ABSOLUTELY NO COST TO YOU!
If you have any questions or would like to receive your own free coffee vending machine, you can call us or use our Free Vending Machines Apply Now form.